Need a complete chimney or a chimney stack removed in Ottawa? You've come to the right place. WeChimney is Ottawa's chimney removal specialists. We don't just remove your chimney, we do all associated roofing, flashing, and shingle repair as well. One call and it's done.
Are you one of the thousands of homeowners in Ottawa who own a chimney that you don't use anymore?  Hardly use a chimney that has potential structural or leak issues? Wondering how to remove a chimney or the cost to remove a chimney?
If you're not using your chimney much or at all, the best way to deal with a problem chimney is simply to remove it. The sooner you do, the less chance there is for costly and frustrating problems to develop.
4 Reasons Why It Might be Time to Remove Your Chimney
There are a number of reasons why homeowner's decide to take out chimneys from their homes. The #1 reason, however is prevention. Chimneys can be a source of expensive structural and leak problems that end up repeatedly creating problems for homeowners.
Reason #1 - You No Longer Use Your Chimney
If you no longer use your chimney – and don't plan to – it makes sense to remove either the complete chimney or the chimney stack sooner rather than later. Without use, your chimney represents a growing liability, especially on your roof. The longer you wait to remove it, the higher chances are that you're going to be forced to remove it due to a problem.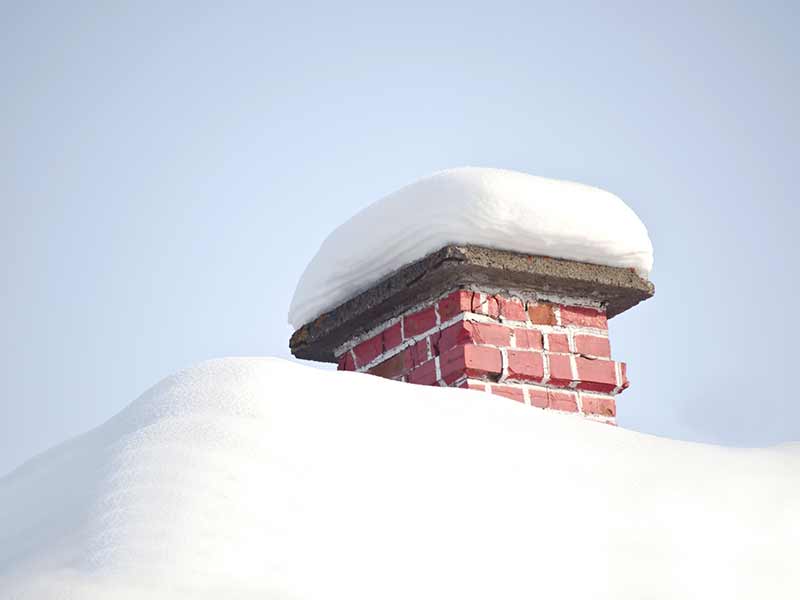 Reason #2 - You've Got a Problem or a Leak in your Chimney
If your chimney has started leaking, the first question you should ask yourself before beginning your leak investigation and repair is: "Is the chimney worth the investment to fix, or would I be better off spending that money on removing the problem forever?" In many situations, a leak is the catalyst needed to deal with your chimney once and for all.
Reason #3 - For the Aesthetics
Old chimneys can be eyesores, especially if they're situated prominently near the front of your home. In addition to removing a potential source of leaks and structural problems, removing your chimney will oftentimes improve the look of your home.
Reason #4 - To Create More Usable Space In Your Home
There are two options when it comes to removing a chimney – the removal of the chimney stack and removal of the full chimney.  The chimney stack is the portion of the chimney that extends beyond your roofline.  The chimney is the portion that is contained within your home.  If you do a full chimney removal, you'll find that you've freed up space that can be functionally used within the home.
Removing a chimney is work that requires knowledge and experience. We do not recommend chimney removal as a DIY task for homeowners for two reasons.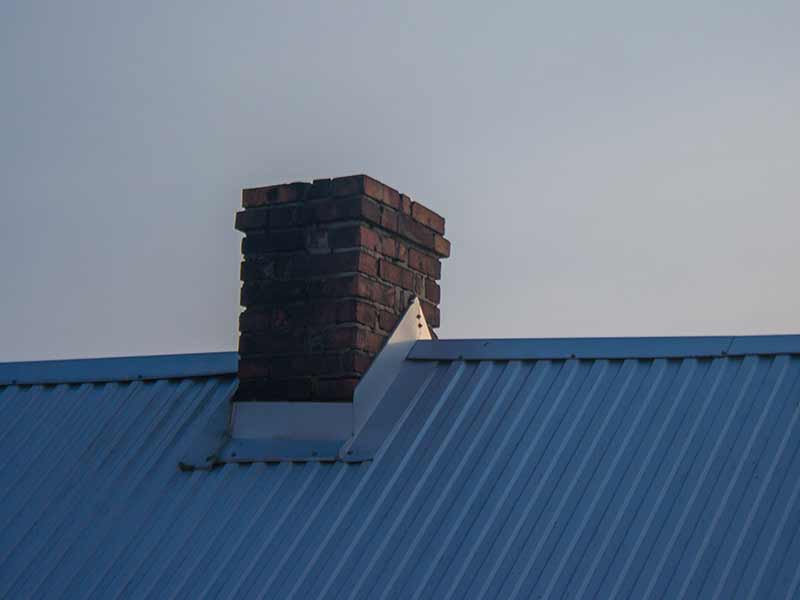 First, there are a number of technical elements relating to chimney removal that are required. It's not simply a matter of smashing a chimney with a sledgehammer and throwing out the brick. An understanding of how your specific roof structure works, as well as how to install flashing and shingles, is required to remove a chimney. 
Second, removing a chimney on a roof requires familiarity with working at heights and the ability to work safely. We recommend using an experienced contractor to perform work at heights on your property, who carries proper WSIB insurance for your protection as the homeowner.
Chimney Removal Type 1 - Chimney Stack Removal
The chimney stack is the portion of the chimney that is exposed above the roofline. It is the most common source of leaks and problems and the most frequently removed part of the chimney.
Step 1 - Start from the top down
Chimney stacks should always be removed from the top down. It is important not to compromise the general integrity of the chimney structure and risk a full or partial collapse by beginning from the bottom or a middle point.
Step 2 - Work Brick by Brick
The chimney removal process should be a controlled one. Using hammers, sledgehammers, or impact hammers, bricks are generally loosened and removed individually.
Step 3 - Dispose as You Go
There are many ways to get the chimney stack's bricks from the roof down to a trailer for removal, but you should always go in with a plan to ensure bricks are transferred from the roof to the disposal trailer in a controlled manner that minimizes debris.
Step 4 - Repair the Hole in Your Roof
This is the most difficult step in the process. Repairing the hole in your roof takes technical know-how, and if you get it wrong, you can set yourself up for some serious problems. Not only will the hole need to be properly framed in, insulation will need to be installed, the chimney hole covered with plywood, a waterproof membrane installed, and flashing and shingling done in a manner that matches the rest of your roof as closely as possible.
At WeChimney, we also take the opening up of your roof as an opportunity to inspect your roof substructure from the outside (which normally isn't possible).
There are a number of contractors out there that will remove the chimney stack, but who will then ask you to hire a roofing company to repair the hole in the roof. At WeChimney, we complete all parts of the job, this is what we do! If you're looking to have a chimney or chimney stack removed, please get in touch for a free quote that will include all costs, including brick disposal costs and roof repair.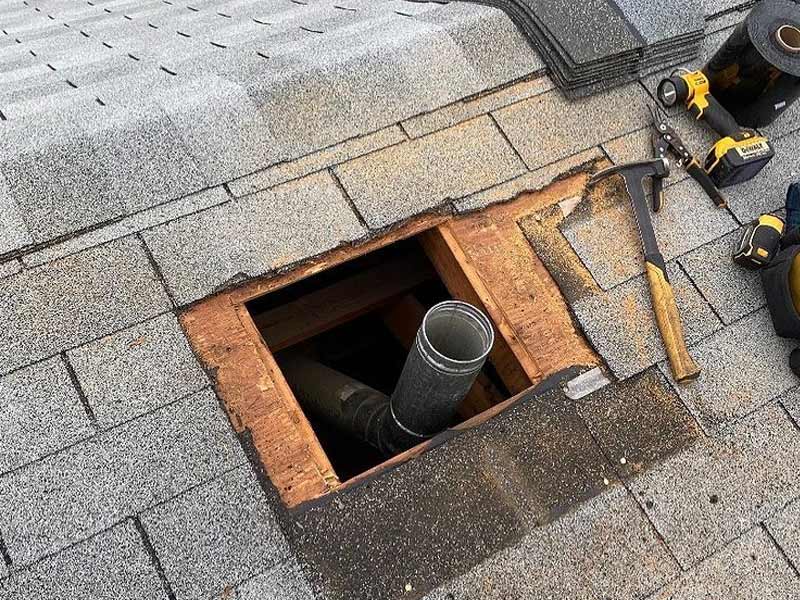 Chimney Removal Type 2 - Full Chimney Removal
Removing the interior portions of a chimney can be a complicated job, with potential structural implications. This work should only be undertaken by experienced contractors with a proper understanding of how your chimney fits with the structural components of your home.
Chimney Removal Contractors
There are two basic types of chimney removal contractors that can be hired for chimney demolition and removal projects – and then there's us!
Masonry Contractors for Chimney Removal
The first type of chimney removal contractors are masonry contractors, who typically have extensive experience with chimneys themselves. Masonry contractors are an ideal choice when brickwork needs to be salvaged or there are other brick and mortar considerations.
One potential issue with using masonry service providers as chimney removal contractors is roofing  and siding repair work. Not all masonry contractors are willing or able to complete the roofing or siding repairs necessary to repair the hole that chimney removals create.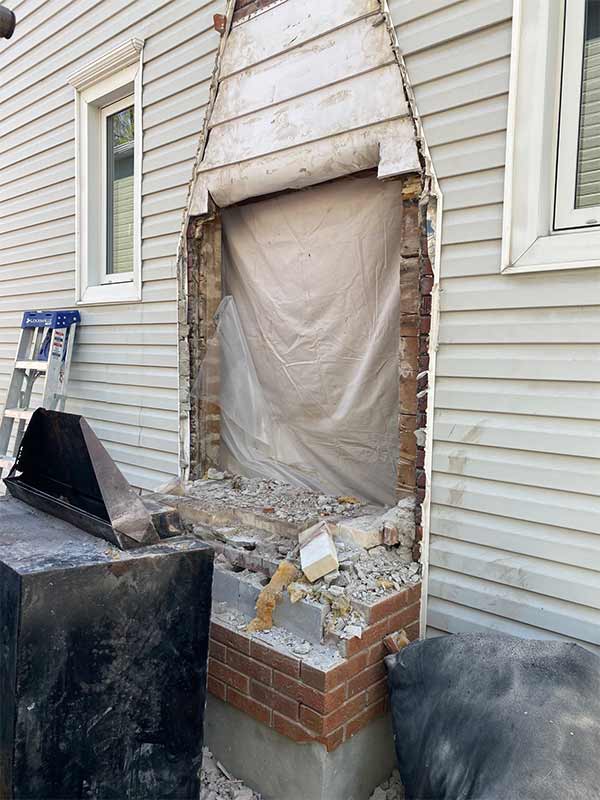 In some situations, the masonry contractor will be able to safely and professionally remove the chimney, but will require you as the homeowner to coordinate the roof repair by a qualified roofing company.  
If you're looking for a chimney removal during a busy roofing seasons, this can mean waiting weeks – or potentially months – to have the hole in your roof repaired.
Roofing Contractors for Chimney Removal
Roofing contractors are the second type of service provider that typically offer chimney removal services.  While roofing contractors are generally equipped to handle both the chimney demolition and the roofing component of chimney stack removals, interior chimney removal work is oftentimes not an area of specialization. 
WeChimney as a Speciality Chimney Removal Contractor
As a specialized chimney removal company, WeChimney has the experience to complete all parts of your chimney removal project. If you have a chimney removal you'd like to discuss, please get in touch to discuss with one of our team members. 
Ottawa Chimney Animal and Bird Removal
This is a situation where the expression "prevention is better than cure" definitely applies. The best way to prevent animals and birds in your chimney is to ensure that you have a proper chimney cap in place.  Missing or damaged chimney caps are the primary cause of unwanted guests in your chimney.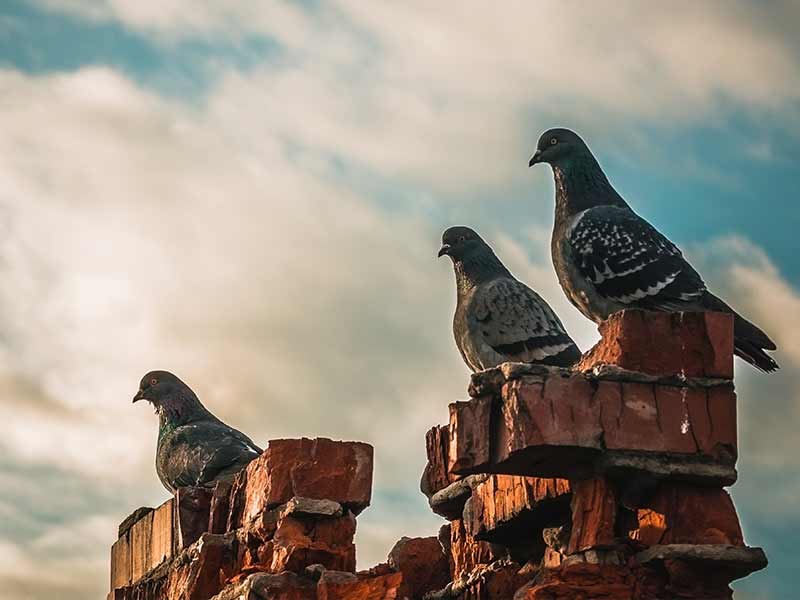 Discovering a frightened bird, bat, squirrel, racoon or other animal in your chimney can be an unpleasant experience, and one you'll want to deal with quickly.  
While there are a number of articles out there on the Internet with suggestions on how to coax birds or animals out of your chimney, we don't recommend trying to remove a stuck animal or bird yourself. Your first goal should be to prevent it from getting into your house if you can do so safely. Closing the fireplace screen, keeping your damper shut (if it is above the damper), or placing barriers over your fireplace opening (assuming it is safe to do so) are some of your options.
Once you know the creature can't make its way into your home, your best bet is to call a wildlife control contractor to professionally and humanely have it removed.  While we don't endorse any specific company, some popular wildlife control contractors in the Ottawa area include:
We strongly discourage any attempts to "smoke it out". This is both for humane reasons and because if a bird or animal has created a nest in your chimney it may present a fire hazard.
Frequently Asked

Chimney Leak

Questions
How Do I Remove a Chimney?
The easiest way to remove a chimney is to hire a chimney removal contractor. If you're looking to do it yourself, there a number of things you'll want to understand.  These include: how to safely work at heights on your roof, working the chimney stack removal from the top down brick by brick, how to repair the hole in your roof, how to replace insulation and install a waterproof membrane, how to assess if there is any structural risks associated with removing your chimney from your home, and best disposal practices for chimney materials.
How Much Does it Cost to Remove a Chimney?
The first question to ask is if you're looking to remove just the chimney stack (i.e. the part that extends past the roofline into the air) or if you're looking to remove the entire chimney.  Pricing for removing the chimney stack is going to be significantly less than removing the entire chimney structure.  Chimney stack removal usually starts at around $1500 on the low end, and ranges upwards based upon the complexity of the work.  
Does WeChimney Do All Parts of the Chimney Removal Process?
Yes! We do all parts of the chimney removal process, whether it's a full chimney you're looking to remove or just the chimney stack. This includes the structural roof repairs, insulation install, waterproof membrane, and re-shingling.
How do I get a bird or animal out of my chimney?
We recommend calling a professional to deal with this problem.  We have a list of a few reputable Ottawa contractors above if you scroll up.
Contact us about your

Leaking Chimney